Adding Domain to your Windows Reseller Hosting - M6.Net
Get a Shared, Reseller or Cloud Package Just Right for You
Add a new Domain to your Windows Hosting Package by M6.NET
Following Video and tutorial demonstrates the process of adding a new domain to your Windows Hosting account and in easy and simple steps.
Get started with adding domain to your Windows Hosting
1. Login to your Windows Hosting account page
2. Pull down the Register Menu and Select "Register a New domain" option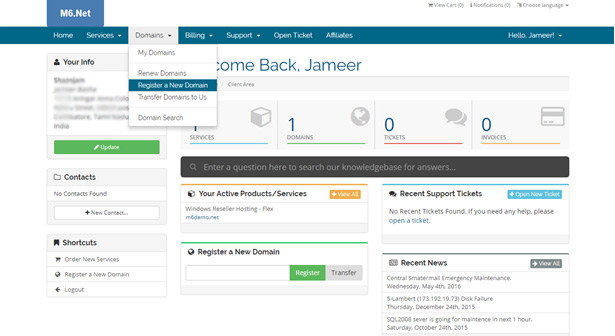 3. In the Shopping Cart page - Check the Availability of the New Domain by entering the domain and selecting the tld of the desired doamin
4. Complete the Domain registration process by Selecting the payment mode and Click "Complete Order"
5. Verify the generated invoice
6. Pay the invoice for the registered domain through the Mass Payment option in the customer portal
7. Check your registered email for invoice payment confirmation email
8. Shortly, an email for ICANN doamin verification will be sent to your registered doamin email. Click the link in the email to confirm doamin verification
9. Now login to your Plesk Windows Hosting Control panel of M6.NET
10. Click the "Open" option under the domain to browse the domain default page
Related Hosting Tutorials
Other Useful Resources
The most flexible Windows Hosting
Since 1997


gives you the best prices with the most features.

What are you waiting for?